Are you looking for a MIG welder that can handle inputs of 110V, in order to allow you its use in your home? If this sounds like you, then read on for our picks of the top MIG welders that use this voltage.
MIG welding is the easiest welding process to learn on the go, making it very friendly for beginners and hobbyists who might want to learn a thing or two. Its accessibility also allows professionals to use it easily, and can be quite enjoyable and fascinating when you get the best weld results from your work.
However, the problem is that there are numerous welders in the market that are made from substandard materials, or they produce less than stellar results. Because of this, it is very important to ensure that the equipment you use for your welding work is of high quality – or else, the process will quickly frustrate you. In order to avoid making mistakes when buying, we have compiled five of the best MIG welders to get, as well as a guide on what to look for when purchasing one.
Comparison table
[table id=8 /]
LOTOS MIG140 welder – best for lighter tasks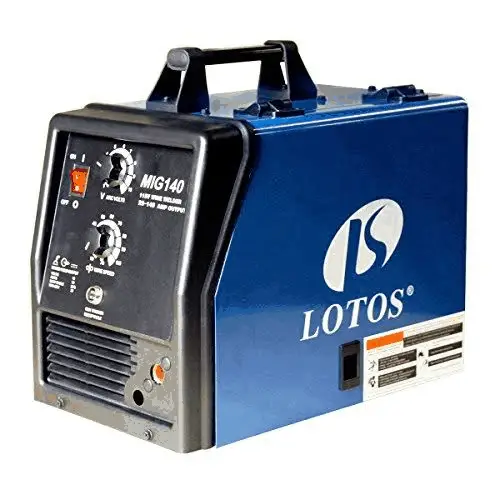 If you want a MIG welder that gives you diversity in your work, even though it might be lower quality than the others on this list. It packs a variety of features that will prove useful to you, such as its aluminum spool. Note that most MIG welders are able to deal with aluminum welding, but few of them will provide you with the soft aluminum wires that you require without a spool gun that is specific to the task – and this is among the few.
Specs
Multi use, as it can weld stainless steel, aluminum, mild steel, and other metals
Includes a spool gun and aluminum wire feeder for a more seamless experience
Rated output of 175A, with input voltage of 220V/240V
Wire ranges of 0.025 to 0.030 inches, and solid steel range of 0.030 to 0.035 inches
Includes a flux core and has gas-shielded welding functions
Dual frequency of 50/60 Hz
The spool gun can feed the wire as smoothly as possible, which means that the results come out without folding unnecessarily. While the machine does not have as long of a warranty as the top MIG ones do, it is still affordable and is even known to outlast its warranty by many years.
The welding results are not at the quality of the top MIG welders, but they are not too far behind either – and any type of easy-to-weld metal will have the tidy beads at the end of the process. The welds are spatter-free too, as long as you are using the correct settings on the job. Even though there might be some spatter on some occasions, it is nowhere close to the extent that poor quality machines have, so that is a worthy tradeoff.
The welding gun and leads are not the best you will ever own, either. In addition, you will not see the use of replacing the connector, as it is unusual and most guns will not fit it entirely. Despite this, this is a welder that will fit you if you are doing lighter work, not the industrial-level work, so you do not need a premium welding torch either.
Pros
It includes the aluminum spool gun
Budget friendly and still gives you the basic advantages
Produces neat welds
Good choice for hobbyists
Cons
The MIG gun is not high quality
Unsuitable for industrial-level use
Verdict
If you require a MIG welder that will help you accomplish your tasks at home, especially for welding aluminum, this will sort out your needs.
Lincoln Electric K2185-1 MIG welder – best in durability rating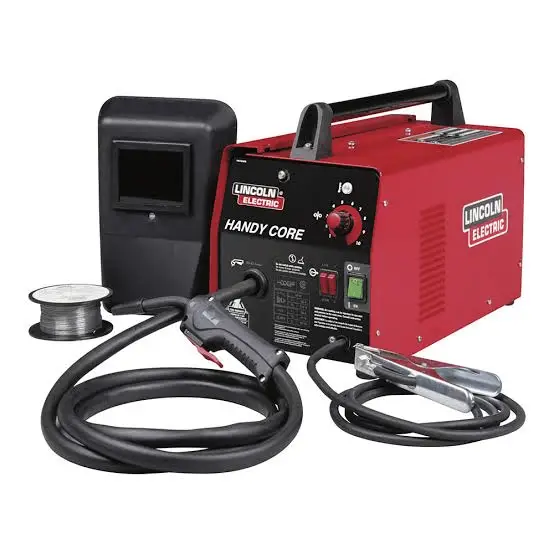 The brand of Lincoln Electric is one that inspires confidence in many users – after all, it has been around for decades, and many use their products in various home welding tasks. It also proves to be useful for both experience and beginner welders – although unfortunately, it has some flaws which drop it lower on the list.
Specs
Duty cycle of 20% at 70A
Safety feature of cold contractor to keep the wire cool, and a fan cooling system to prevent overheating of the machine
4 voltage settings and indoor chart to help in selection
Can handle welding thicknesses of 24-gauge to 1/8 inches (mainly steel)
Input voltage of 115V
Continuous adjustments of wire feeding speeds
This welder is capable of handling both flux core and MIG welding, and is best in home repair projects as well as welding light-gauge mild steel. It is quite simple to use, but the major disadvantage is the pricing – since it comes at a budget friendly price, it lacks some features that are a preserve of the more expensive welders such as infinite control of wire feed speeds or voltage settings.
The maximum amperage it has is 88A, which makes it one of the lowest rated in terms of output – so it will not work for heavy welding tasks. You will have four voltage settings you can select from, and the highest setting will allow you to weld thicker metals. The good news is that there is a good chart that shows you the settings to choose, depending on the thickness of the metals. It also runs on a low input voltage that allows you to use it in your home.
Another major plus is the lightweight and compact design, allowing you to transport it easily. To help you pick it up, the top of the machine has a solid handle.
Pros
Affordable for budget users
Durable build and has solid mechanisms
Portable and lightweight
Self-shielded flux core welding
It is flexible in wire size use
Cons
It can only handle mild steel
Limited control panel adjustments
Verdict
There are many budget-friendly welders on the market, but they can be risky purchases because of falling apart after some time – however, this model does not have the same problem, and it can serve you well for many years as long as you take care of it.
Super Deal PRO commercial MIG130 – best for welding thin metals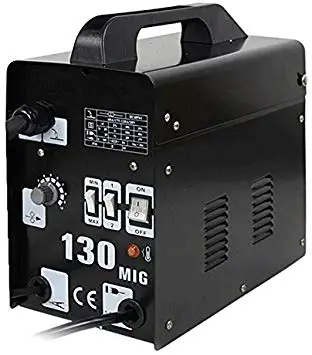 This is among the many light-duty welding machines, and is good for the lighter metals that you cannot weld using a stick welder, such as sheet metal. This is because of its automatic feed system, which helps you get the job done easily.
Specs
Lightweight and powerful – built from high quality PVC material
Makes use of convenient flux – self release metal-inert gas and cored wiring
User-friendly interface to help you handle the harder jobs with convenience and ease
Has 4 control buttons for 1/2, MAX/MIN. also has 10 adjustments for wire feed speed
Thermal overload protection features with a cooling fan to guard against overheating
Metal tip at the end of the weld gun
The welder can handle metal thickness of 16-gauge to 3/8 inches easily, including aluminum of the same thickness, which makes it quite versatile. If you are a beginner, you will find this fairly useful because it will permit you to practice your welding with different thicknesses and materials.
There are also a wide variety of accessories that come with it – which include a wire brush, a spool of flux welding wire, extra electrodes, tips and fuses, as well as a 2.5m torch. However, do not always rely on the wire that is included in the package, because the thinness will cause it to have its own issues with the automated mechanism of the machine. The weight of the machine is incredibly light, only weighing 38 lbs., and the design is compact enough to allow you to store it anywhere.
On the other hand, the wave form control technology it uses can reduce its spatter while increasing the depth of fusion and its performance. The slag buildup is also significantly reduced thanks to the welding gun's copper tip, which is also easy to replace when it wears down.
The major problem we have with it is the build – instead of stainless steel, it is made from PVC. This brings to light questions about its durability. In addition, the limitation of only using 110V as its input severely limits its output and power, as well as the thickness of metals it can handle, which make it not be a top pick on this list.
Pros
Good quality of welds due to the use of wave form technology
Good flexibility on the wires and wire feed speeds
The copper tips at the end of the gun reduce messy slags
Good weld speed control choices and wire feed
Cons
Poor output of power
Less durable construction
Verdict
While this welder has plenty of advantages that come with it, the build quality is a major disappointment. That said, it is good enough to handle minor welding jobs around the house, but avoid relying on it for a heavy-duty job – or else, it runs the risk of breaking down.
Hobart 500559 Handler welder – our pick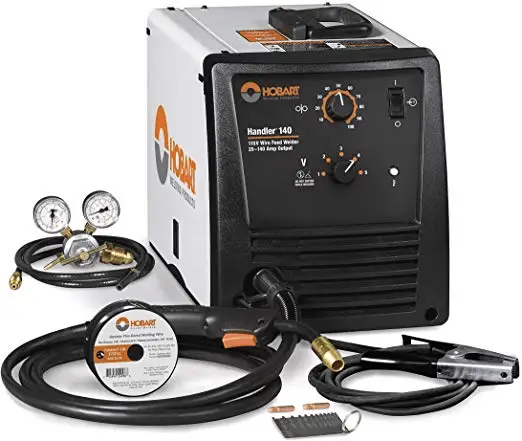 This is the most versatile welder we have come across among the cast variety of flux core welders – and it is capable of handling anything you throw at it, in the best way. It is both suitable for professional use and amateur users, and works for both flux core and MIG welding.
Specs
Uses 115V standard household current supply
Wire feed speeds of 40 to 700 IPM
Has a voltage control selector in 5 position to give a smooth arc
Use the MIG welding process for titanium, copper, magnesium, brass and cast iron alloys. Use flux core for titanium, cast iron, aluminum, magnesium and brass alloys
5-year limited warranty
You will quickly notice the ease of setting up this welder once you get it, because it has all that you need, in addition to being impressively easy to use (especially when compared to other gas-less MIG welders). The only unfortunate aspect here is the inaccuracy of the side chart, which might cause issues when you are trying to figure out the correct settings for operating the welder at its optimum.
In case you would like to do some MIG welding, the package includes a gas line setup and a regulator to ease the process. The MIG option is also quite versatile in what you can do with it, as it can handle many metals including aluminum.
You will be impressed by the long warranty that is also included here; the 5-year period is rare to find in other welders in general, so you can rest easy in the fact that it is a good choice for both hobbyist and professional welders.
Pros
Wide range of amperage output, from 25 to 140
Voltage control selector with a wide array of adjustment settings
High speed range of the wire feed
Lightweight and portable
Uses standard household voltage input
DC output
Multi-purpose
High quality build
Cons
Inaccuracies in the welding chart
Verdict
This is not an entirely new welder in the market, but its effectiveness on the job and build quality is more than impressive – which is why it is our top pick.
GoPlus MIG 130 welding machine – great choice for DIY and hobbyist welders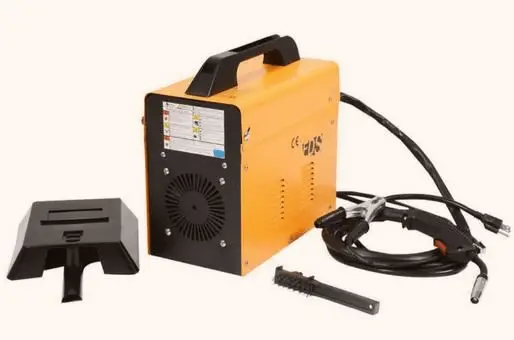 This is a welder that is portable and versatile enough to allow for use in both home and professional settings. It will fit many of your needs, even as it takes up a small part of your storage space. It also makes a good tool if you enjoy making decorations or sculptures, as well as auto body projects and light steel welding.
Specs
Adjustable in 4 levels of current flow settings, 4 buttons of 1/2, max/min, wire feeding speeds (10 levels)
Welding gun with complete safety control, and two air vents to dissipate heat
Hidden top storage to keep your extra tools
Metal tip
Thanks to its build and specifications, it can handle a wide array of projects. It uses a voltage of 110V, and has a 72.5-inch long power cord. The maximum output to expect is at 15% when it is running on 105A of power.
The standout feature though would have to be the adjustment settings, which allow you to change things up according to the specific project you are working on. It also has a strong plastic handle and steel frame, which ensures it can handle various conditions without the risk of breaking down quickly.
Another advantage is its portability and versatility. Because it only weighs 35 lbs., moving it around is very easy and you will likely not require extra help to do so. The top handle also enables easier carrying, and the smaller dimensions ensure it does not take up too much space in your workshop.
Note that the package includes a welding mask that measures 9.5 inches x 7.87 inches. While this is a great choice if you are an occasional welder, it will not be enough if you are planning to us it in industrial settings or for professional projects.
Pros
The cord is long enough to allow you to use it multiple settings
Handle is plastic and has non-electrification properties
Heat dissipation mechanism to avoid accidental burns
Durable frame
Very affordable
Cons
Breakers sometimes trip, which can be frustrating
Welding power is minimal
Verdict
If you are looking for a welder that can meet the needs of your home welding or lighter professional projects, then the GoPlus can meet some of those needs. Even though it lacks the power of a professional-level MIG welder, it can tackle any hobby project very well.
What we do not recommend
HITBOX MIG gasless welder equipment – has versatility, but low quality build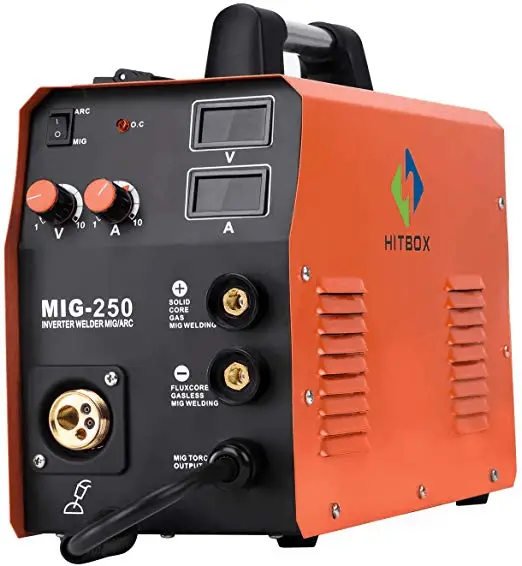 While this is a machine that comes in quite handy for a beginner or useful as a backup machine, there are a number of disappointing aspects that it has, which is the reason why it is not a good choice.
The good news about it is its affordability, which makes it a god choice for any hobbyist welder. It can operate with 200A of power, and its arc can become hotter than what you would typically get from a 200A machine.
In addition, it can operate for a much longer period compared to other similar machines of the same size. However, it does not have as long of a lifespan, because of its low quality.
It also gives you an option to connect a TIG torch and do some TIG welding if you want, but the preset settings are unfortunately too limited to handle extensive work due to using synergic settings. Instead of giving a wide variety of settings, it comes with predetermined specified settings, which then dictate the amperage you can run and wire size to use.
The setting style is good if you are a learner, because you do not necessarily need to know the correct amperage rate to wire speed. The bad news is that you can only choose between two metric wire sizes, unlike most synergic machines that have multiple wire speed adjustment settings.
Merits
Can handle both MIG and TIG welding
Affordable
Demerits
Low warranty period
Inconsistencies in the results and the product
The lifespan of the welder is short
Limited setting adjustments
Verdict
If you are looking for a 200A machine that has beautiful welds, this can be an option to consider. However, it is not something you would consider first, as there are plenty of similar machines that have a higher quality of build and work.
What is MIG welding?
When it comes to the process of MIG welding, you use a MIG wire (steel wire cylinder) or an electrode, which then connects to the welder via a liner. This is then fed into the weld through the spool gun tip.
The welder must have a power source, which it uses to heat the wire and melt it so that it can be molded into an adhesive for other metals. In order to protect the weld from oxidation or airborne impurities entering as it cools down, the weld liquid is injected with inert gas.
Through the use of the melted electrode, it is possible to join two pieces of metal as you pass them through your weld gun. This is a significant departure from previous welding methods that used welding rods, as it is more efficient and much faster to complete. In addition, the operation is simple enough, so it allows welders of various skill levels to carry out the process for a variety of tasks.
There are also other welding methods that are useful – some are used in conjunction with MIG welding, while others are separate. They are:
Arc (Stick) welding
Stick welders are the most basic type of welders, and are easy to use when you get the hang of using them. They are not as expensive as other methods.
It works by using a stick electrode rod, which has a coating of metal powders and compounds. You then make electric arcs by feeding electric current into it and connecting it to the metals.
Gas welding
The method uses oxy-acetylene gas which generates a flame, and this melts the steel. It can also be useful in welding other metals such as bronze, silver and copper, as well as thicker metals.
TIG welding
It stands for Tungsten Inert Gas welder, and it needs a two-hand job. One hand holds the torch, while the other feeds the filler rod. They are mainly used for welding aluminum, titanium, alloys and steel due to the high-quality finish.
What to look for in a MIG welder
Input power
This is the first and most important aspect to think about – the power the welder is producing. The input voltage is the power your welder will operate on, so it is important to remember that not all welders will work with the power sources that your workshop has. If you find a welder that uses a power input of 110-140V, then this is the most favorable for home use because standard household power outlets have this range.
Other than that, some cheap and more expensive welder will only operate at power inputs of 220V – otherwise, they can switch to higher voltage. For cases like these, you will need different kinds of outlets.
Thickness of the materials/metals
There is only so much you can expect a metal gas inert welder to handle. As a general rule, MIG welders can comfortably handle thinness of 0.0239 inches (24 gauge) or 0.0478 inches (18 gauge), and maximum thickness of 1.2 inch or 3/8 inch. If you are welding metals that are thicker than this, you are better off getting a stick welder machine.
Duty cycles
This will determine the efficiency levels of the machine, as it is a measure of the length of time the machine can weld in order to optimize its lifespan. The percentages you see may be different, but the standard way to look at it is in increments of ten-minute time spans.
Different duty cycles will depend on the amperage indicated, so this will change for different welders. In order to adjust the amperage, you can do this by adjusting the dial present on the machine.
Protection from Thermal overload
This will not necessarily be present in all MIG welders, though some have it. It is a handy feature that increases user safety when using it, as it prevents the welder from overheating and shutting down – although you should still always wear your welding mask and helmet while using it.
Other MIG welders will have a cooling fan when overheating occurs, if they do not use this method. At the end of the day overheating has numerous risks to it – it forces you to waste more time while allowing the machine to cool down, and it leads to an increase in consumption of the shielding gas.
Machine weight
This might be a smaller factor to consider, but it is still important to think about. If you are buying a machine that is 50 pounds or less, it is easily portable – but it might still need a wheeled cart in order to move it without struggle.
The metals it can handle
Different MIG welders can handle different metals – while some focus on one metal, others can do several efficiently. The usual metals you will find MIG welders handling are aluminum, stainless steel, and mild steel, while some welders can handle cast iron, iron, and some alloys.
Final thoughts
Choosing the best 110V MIG welder is quite similar to when you are selecting any MIG welder, so it should not be too challenging to go for one. The only thing to keep in mind is your own needs, and selecting a machine that fits those needs.