MIG is the short form of Metal Inert Gas, and the MIG welding process takes place when a continuous solid wire electrode is run through a welding gun into the joint that is being connected otherwise known as a weld pool. And, he good thing with MIG welding is that it produces high-quality welds in less time, but, things are not all rosy while working with MIG, as you might need to keep away from wind during the welding process.
So why is it convenient to use an MIG welder; for starters operating an MIG welder doesn't involve a steep learning curve, therefore, even the non-professionals can hone their skills in the process. MIG, unlike other welding processes, is low cost but with high productivity and even more interesting is that welding can be done in different positions.
Given the above, it is only fair if we completed the excerpt by providing you with some of the best MIG welders under 500.
Comparison Table
[table id=14 /]
The Campbell Hausfeld has been equipped with a heavy drive deck that ensures the supply of wire is consistent during welding. And for metal thickness, you have been provided with up to five heat settings that will match the varied metal thickness of up to ¼ inches.
Specs
Only weighs 8 ounces
Machine dimensions are 20.5x 10.5x 12 inches
Duty cycle is 20% @ 90A
Incorporated 10 feet, weld and ground cable length
There isn't much fuss when it comes to the Campbell Hausfeld, and the reasons for this are in plenty, for starters, it does not stick weld like the standard MIG stick welder, but that is not to say that it is not effective. On the contrary, rather the welder can work well with a flex core wire if you must do the welding from outside.
The welder also works well with coated and dirty steel, and as stated earlier the Hausfeld is a low key welder that cannot work with aluminum, and as concerns the amperage range, you also don't get too many options. So why include the Hausfeld under the best MiG Welder under 500, for one it goes for about $343. 36 and can give you strong welds of up to ¼ inch thickness.
What's more, is that the outer part is made of sturdy material and has incorporated durable internal components.
Pros
Users get up to five years warranty
Wire consistent speed is unmatched via the heavy-duty deck
Fairly priced given its functionality
Incorporated five heat settings for different metal thickness
Cons
Does not work with aluminum welding
Users cannot enjoy a variety of settings adjustment
Verdict
Though low key, Campbell Hausfeld is quite efficient for the purpose for which it was created and features sturdy and durable material in its manufacture.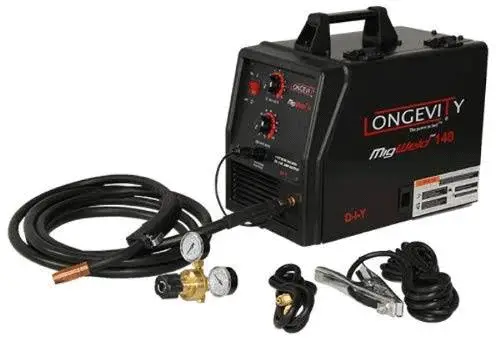 Given the price, Longevity has a few downsides that should have made the price even lower, but it does work well at the offered amperage range. And the good thing is that you don't have to find a special type of consumable rather the one in your local store should suffice. The welding machine is light in weight thus portable and is versatile either for home or commercial use.
Specs
The machine weighs 54 pounds
Machine dimensions 16×14.5×9.6 inches
Can weld up to 3/8 inches
Operates on 110 volts
Longevity 140amp MIG welder is not exactly high end but is powerful enough to weld up to 3/8 inches of mild steel. During welding, users are able to adjust their wire feeding thus finding the perfect range becomes quite easy compared to other welders of the same standard.
Pros
Features a wire feeding adjustment
Can perfectly weld up to 3/8 inch of mild steel
Does not use a special type of consumable
Works well in repair welding
Cons
Wire feed is not effective
The price tag is a bit too high given its functionality
Verdict
Longevity 140 amp welder is perfect for the purpose it was made for and shouldn't be expected to surpass that. At 140 amps, the welder will work on your 3/8 inch mild steel without much hustle but it is also thought to work best on ¼ inch projects or less.
Lincoln Electric K2185-1 Handy MIG-Welder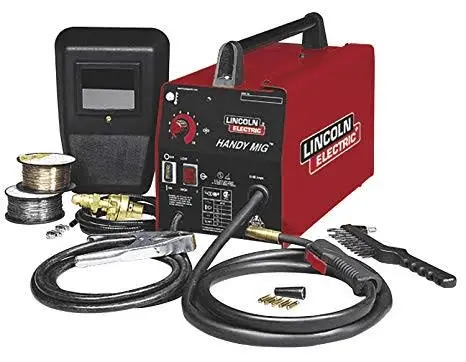 Upon purchase of a Lincoln Electric welder, you will get additional accessories that are convenient during the welding process, such as the chipper and the welding mask. The machine boasts of minimal amperage range adjustments and will do a clean job on a 1/8 inch thick metal.
Specs
Weighs 26 pounds
Dimensions 18 x 10.3 x 16.8 inches
Voltage is 115
The parts used in the making of the Lincoln Electric are of high quality but still, the machine is very portable and comes incorporated with a continuous wire feed adjustment so that you can work with comfortable speed. The only problem that users might encounter is the low range amperage which is a primary factor in most welding machines.
The above factor should not stop you from getting the welder because it will perfectly fulfill its purpose. Warranty is also provided for the machine but on some of the parts and it would be best if you check your manufacturer's manual for conclusive information.
Pros
Made with high-quality parts
Features a wire-speed adjustment
Works perfectly within its range
Comes with accessories such as the mask and the chipper
Cons
Adjustments settings are quite few
The amperage adjustments are quite low
Verdict
When purchasing a welding machine most users know their needs and what they hope to achieve if you are a frequent welder then its best to invest in the high-end welding machines but if you don't use it frequently or would like to learn how to use one, then the Lincoln type of machines are what you should be looking for.
Forney Easy Weld 271, 140 MP Welder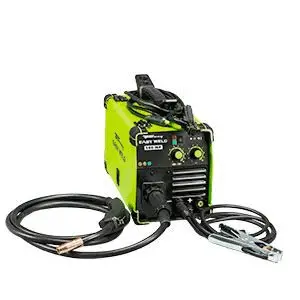 The one advantage that sets the Forney Easy Weld apart from its competitors is its ability to use a generator, and for safe use, the machine has incorporated an 8inch ground clamp. The versatility of the machine is another feature that makes this unit even more likable, as it can be switched from MIG to TIG, DC and even Stick welding.
Specs
Weighs 28.5 pounds
Machine dimensions 15×12.5x 20 inches
Features a 10 inch MIG gun
Rated output voltage range- 12 – 23V
The Forney Easy weld comes incorporated with a three-position switch which allows a user to alternate between processes. For example, you can easily shift from mild steel welding with gas set up from flux core welding. The Forney welding machine gives its users the power to use its 3 in 1 feature, only that you will have to get a hose, a regulator, a torch, gas and tungsten electrodes.
Users can use the provided 140 amps to do welding on projects of up to ¼ inches on mild steel and in a single pass. For the serious individuals who weld on a day to day basis, they should consider adopting this welding machine because it can take the beating and can also handle up to 2 and 10 pounds rolls of wire.
Pros
The machine is a multi-process welder
Comes with multiple settings adjustments
Features voltage and wire control feeds
The machine is easy to use and comes with a three-position switch
Cons
Has too much spattering
Features short leads
Verdict
Though not high end the Forney Easy weld can work well on large scale, the machine is very easy to use given the setting adjustments incorporated. What's more, is that it can take a day to day beating without necessarily falling apart.
SUNGOLDPOWER 200Amp MIG Welder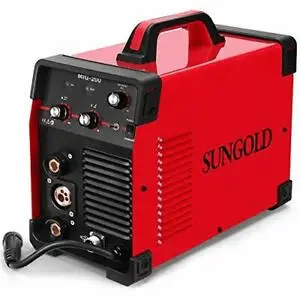 Going for only $395.00 the Sungoldpower does an impressive job. So if you have carbon steel, aluminum, mild steel, stainless steel, and iron projects then Sungoldpower is your go-to welder. Most important is that it also features an adjustable wire speed, so users can comfortably work at their pace to achieve the perfect weld.
Specs
The Machine weighs 44 pounds
Machine dimensions 19.6x 9.4 x 14.9 inches
Double voltage (110V/220V)
Welding current is adjustable
If you plan on using Sungoldpower then be informed that there are some accessories that must be purchased separately like the aluminum spool gun, and don't worry about the fitting because the roller system has been set to accommodate one. The other reviewed welding machines have the ability to weld through ¼ thick plate but their workmanship is not anywhere near the Sungoldpower, so what makes it better than the rest.
For starters, Sungoldpower does feature a high amperage range, so you can be sure that you will get through the ¼ inch plate with ease. Second, it comes with a wide range of diversity and is made of high-quality machine parts, being under the $500 budget welding machine, Sungold has stacked up well when compared to other machines of the same standard.
Pros
Features a variety of adjustment settings
The amperage is high
Has adjustable wire speeds for comfort during use
The welder is a multi-function welder
Cons
Wire feed system not very effective
Features short leads
Verdict
Sungoldpower 200Amp has been designed to do the heavy lifting when it comes to welding and you can thus use it on rusty metal, stainless steel, aluminum, and mild steel metal; the machine can also work on some of the road equipment including maintenance and repair. Given its functionality, it is fair to categorize the machine as one of the high performing under $500.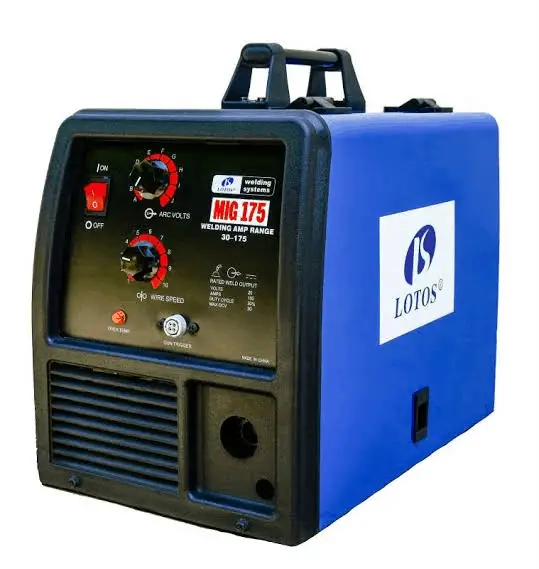 Unlike the Sungoldpower 200amp, you shouldn't have very high hopes with the Lotos 140 Amp as it cannot manage to perform at the industrial level. However, the machine will do a perfect job when welding aluminum, mild steel, and stainless steel projects. What's more is that the wire feeder is of high quality so productivity is set to be at an all-time high, for the first time users.
Specs
Machines input voltage is at 110v
Welding capacity is at 24 gauge -3/16 inches
Handles industrial standard 4" or 8" wire spools
Features a 2T/4T Switch
Lotos 140 Amp comes incorporated with adjustable speed for the wire feeder; users can also tweak the welding voltage to suit their operation using the 2 digital displayers. The hustle of switching between +/- has been simplified by the ground cable quick connector and users are at liberty of setting the precise amperage for the project that they are working on.
And even though the leads are short you can still carry out a 3/16 inch welding with the torch because it can comfortably cover the project.
Pros
Comes with a variety of setting adjustment
The speed of the wire feeder is adjustable
Can work with different types of recommended metal
Feature a durable aluminum wire feeder.
Cons
Comes with short leads
Problem with wire feed
Verdict
Lotos as a brand manufactures some of the best welding machines but for the Lotos 140 amp, it was made to tackle the simple projects mostly for home use and simple repairs.
VIVOHOME Portable Flux Core Wire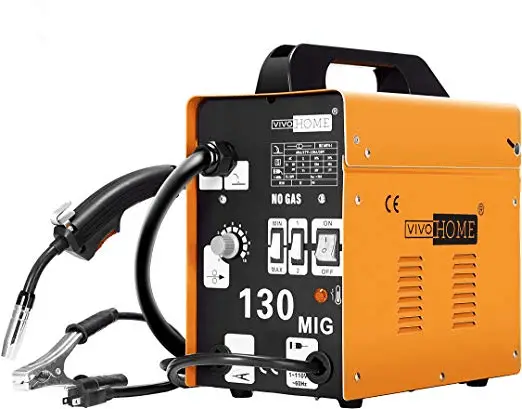 The vivohome welder like its name suggests is good for home use, so don't think about using it on large scale. The convenience of using the vivohome welder is that it has the ability to release metal inert gas while being used.
Specs
Weighs 37.3 pounds
Machine dimensions 20.5x 15.2 x 12.4 inches
Current Range: 50-120A
Voltage: 110V
Vivohome is made of lightweight material making it portable to carry around given the cooperative hand grip. And for your welding projects, the machine works well with stainless and mild steel, but you can also use it on other thin steel welding projects. And unlike other welding machines that you have to purchase accessories separately, Vivohome comes with all the accessories intact so you can get right to work.
Some of the accessories are a welding gun that incorporates an on and off safety control, a welding helmet that you will rarely find included when purchasing a welding machine. There is also a welding wire brush and a grounding clamp. The adjustable welding speed option makes it convenient for use, and with regard to the project that you are working on, you have been provided with up to four levels of current flow.
Pros
Wire feed works perfectly
Features many adjustable settings
The machine is portable thus ease of movement
Functionality is top-notch given the price
Cons
The ground cable is not very effective
Has a lot of spatter
Verdict
Vivohome is a mass of features starting with the adjustable welding speeds that enables a professional finish, the machine has incorporated a portable design and comes with accessories that you will rarely find when purchasing other machines of the same standard.
Points to consider before using your MIG welder
Safety Gear- During welding there sparks of fire and spatters that jump about; this, therefore, calls for a cap or a bandana to protect your head. You will also need gloves, boots, a helmet specially designed for welding and some safety glasses to protect your eyes, full-length pants and long-sleeved jackets are also a necessity.
You will then check on your welder and ensure that all the cables have been properly fixed in their appropriate places, check and select the polarity of the electrodes. The next step is to set the gas flow but you first have to ensure that gas is not leaking in which case, you will apply a solution of soap and water and then check for bubbles.
If there are any, then you will have to get a new hose, you will then ensure that you get the perfect wire feeding performance for a perfect weld. And to achieve the above you will have to ensure that tension on the wire spool hub and the drive rolls are neither too high nor too low, but according to the manufacturer's directions.
The consumables should also be verified, if they are too rusty then new ones should be sought, you could also clean the contact tubes by removing excess spatter and check if the contact tips and liners need replacement.
Now before you start working on your project you need to have a small sample piece that you can do a small test on before embarking on the bigger project.
Conclusion
As we have discovered,s there are good welding machines that can handle big projects under $500, and with regard to your project and frequency of usage, you have a wide variety to choose from in the above excerpt.