Before we get into the best welder for home use, there are some basics that have to be observed, and the first one is whether your home garage can handle the electrical consumption strength of a welder because you risk burning down the house by overloading the breaker. Besides, it is very uncommon to find the higher capacity plugs in a home setting and the reason why as you get your welder, you should ensure that it is of a lower voltage.
Using a home outlet might not be easy but that doesn't mean that it is impossible to set up your small welding workshop at home. Solutions abound and you can adopt a generator, and even though it is going to make so much noise, you are going to at least be able to access up to 3000 or more watts of power. This strategy works best for individuals who live in rented houses and want to get enough heat for their heavy-duty projects.
Now that you have an idea of the amount of power that you are going to need for welding let us now sample some of the best welders for home use.
The best Welder for home use
[table id=15 /]
Forney Easy Weld 299 125FC Flux Core Welder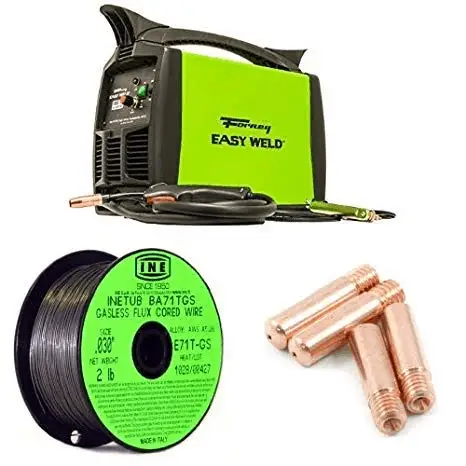 Do you have a passion for welding and don't know where to start, well you could invest in the Forney easy weld because it is very easy to use especially for beginners. And just to put your mind at ease is that the welding machine doesn't need shielding gas.
Specs
Cord length is 6 feet
Weighs 51 pounds
Dimensions 12x 18x 24 inches
The power source is corded electric
The Forney easy weld is a wire feeding type of welder, and is very versatile when it comes to usage as you can use it to create metal art, or do repairs around the home like maybe fix a broken garden tool. The welder can be clamped during use on the bench where you are working or on the piece of metal that you are working on.
And for the novice users, there are some safety measures that need to be observed, for example, you should be able to control the travel speed of the weld, and for a professional job ensure to focus on the welding path. Your stick out should be at a comfortable or recommended distance and ensure that you are in a comfortable position as you work.
Pros
Can be used by novice users
Comes at affordable prices
Saves time as you will just plug and start using
Doesn't reject 2 and 10 pounds of spools
Cons
Wire feeding motor rarely works
Has a lot of splatters
Verdict
The Forney is a good welder for both professionals and the newbies, it is easy to use given that you only need to plug and use. Before welding, it is best that you practice first, failure to which you will not be able to achieve anything meaningful and mostly end up with splatter.
Lotos LTPDC2000D Plasma & TIG Welder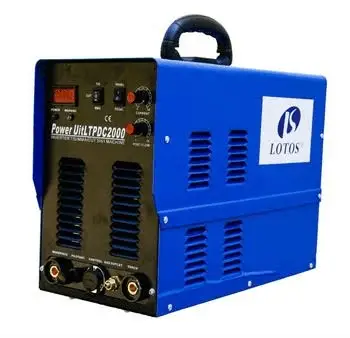 The good thing with the Lotos LTPDC 2000 Plasma and TIG Welder is that it can be set up easily within a minute and it becomes fully functional.
Specs
Dimensions are 17x 8x 12.5 inches
10-50AMP Plasma Cutter Current Output
TIG electric current output is 15-200 AMP DC
Dual Frequency (110/120 V 220/240 V 50/60Hz)
So for your home welding needs the non-touch plasma cutter feature will enable you to cut through the rough, rusty and painted surfaces with ease. What's more is that you can work different types of metal by using the compressed air such as copper, alloy, aluminum, stainless and mild steel. Lotos also uses the stick welder that features an arc start and has an adjustable effective arc current which is necessary for improving arch starting functions.
Upon purchase of the Lotos a user has the advantage of getting up to three functions in one machine, which are the 200 A TIG Welder, the 200 A Stick Welder and the 50 A Pilot Arc Plasma cutter. And the incorporated pilot technology enables the welder to cut without necessarily touching the tip to the metal. Before you get your lotos home welder ensure to get a 50 AMP breaker, and thicker wires because it is unlikely for it to run on a 20 AMP circuit.
Pros
Users get up to three functions in one machine
Cuts metals of up to ½ inch thick
The machine is inclusive of an air hose and duct clamps for easy connection and use
Not very expensive given its functions
Cons
Needs a 50 AMP breaker and 220 volts of electricity
Verdict
Lotos LTPDC 2000D Plasma and TIG welder is an effective home welding machine only that you will have to get a double 50 AMP breaker and up to 220volts electric to get it up and running.
Hobart Handler 140-Best Home MIG Welder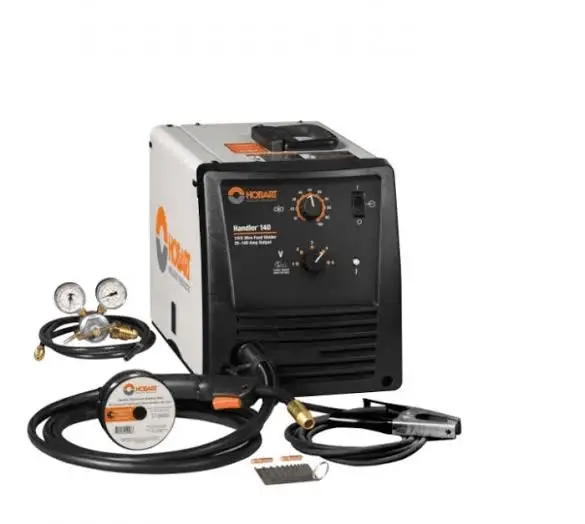 Investing in a Hobar handler is a smart choice that is guaranteed to cater to your home welding projects; the welder is versatile and can also work on other projects like yard art projects, auto body, and farm projects. And to fine-tune and develop a smooth stable arc on different levels of thickness, the Hobart handler has been equipped with a 5-position tapped voltage control selector.
Specs
Dimensions of the welder are 19x11x13 inches
The machine weighs 65 pounds
Amperage output: 25–140
Feature a 5-position voltage control selector
The Horbat handler gives you up to five varying levels of voltage selection thus gives you the ability to carry out major welding projects within your home setting; it is also one of the strongest MIG welders at 140 AMPS that can be used in a standard electrical socket.
Now about achieving the desirable weld depth, you have been provided with the option of setting the amperage from 25 to 140, thus giving you full control, and you can also weld up ¼ inch of mild steel. And the reason why you should invest in the machine is that the manufacturer has faith in its functionality and has thus given you a five-year limited warranty.
Pros
Can be used in a standard home electrical circuit
Comes with a five-year limited warranty
Weld depth can be controlled via amperage setting
The welder is able to weld up to ¼ inch mild steel
Cons
Might need a cart to move it around as it is very heavy
The problem of wire feed aligning with the feed gun
Verdict
Horbat handler stands out because of its ability to be connected to the standard electrical circuit. What's more, is that users can control the depth of the weld that they want to achieve, by adjusting the amperage. Horbat has, therefore, raised the bar high for other welders that cannot be used with a standard home electrical circuit.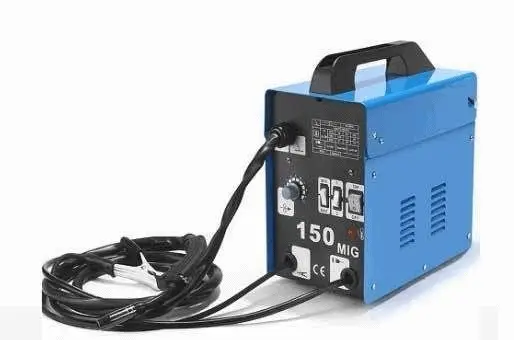 The sungoldpower MIG 150A welder is not for people who want to carry out major welding surgeries from the home setting. But the good thing is that it is fairly priced, so what can you use it on? Sungoldpower will work well on your iron and mild steel projects.
Specs
Weighs 39.5 pounds
Dimensions 20x13x11 inches
Adjustable Power Settings Welding Current: 80-150AMP
Voltage is 110
The low price of the sungoldpower welder should not deceive you to think that it is not effective, on the contrary; the welder can comfortably work on carbon steel, mild steel, stainless steel, and iron. You will also be able to work on your projects with minimal time a feature that has been enabled with a feed speed control.
And for the perfect weld, you have been provided with up to 4 adjustable heating options, and given that it can run gasless operations, you can comfortably use it in some of your outdoor operations.
Pros
Comes at a fair prices
Can work with varied types of metal
The welding machine is offered with a mask and a welding wire
Does not involve a steep learning curve before you can use it
Cons
Needs up to a 50 AMP breaker
Wire feed mechanism not very effective
Verdict
Though the sungoldpower is not ideal for hefty projects, it does suffice for some of the simple projects that you might want to carry out at home. It comes at an affordable price and can work well on different types of metal.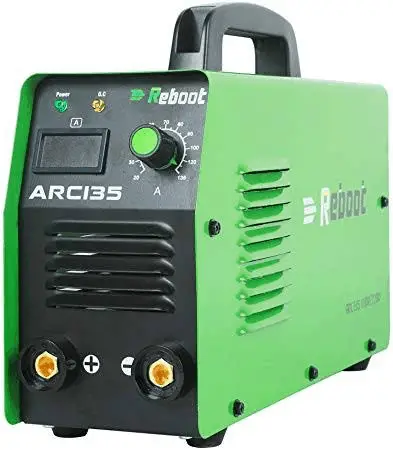 When compared to the sungoldpower MIG 150A welder, the reboot stick welder is very light in weight at only 20 pounds, therefore, you don't need a cart to move it around.
Specs
Dimensions 17.9 x 14.5 x 11 inches
Weighs 20.1 pounds
Welding Current (A) TIG: 220V/ 5-200 110V/ 5-150
Voltage is 240
The reboot stick welder unit is not meant for heavy welding jobs this is so because of its workmanship, so if you want it to serve you for a long time, then be prepared to take very good care of it. What's more, is that it comes at a steep price that does not coincide with its functionality.
Pros
Easy to move around the house
Comes with a 30-day money-back guarantee
Features a three board which is more efficient and stable than a single board
Cons
Power converter not very efficient
The workmanship is not of a very good standard
Verdict
If you have very serious welding projects that you want to carry out at home, then it is not advisable to invest in the reboot stick welder. So to avoid disappointments find another machine that performs serious welding surgeries without falling apart.
Welding tips for the greenhorn welders
Comfort- discomfort during welding will earn you two things fatigue or an injury; you should, therefore, ensure that you assume a comfortable position when welding. Find a position that allows you to handle your machine with ease thus minimize movement.
Adhere to the welding procedures- this can be a tricky aspect for the novice users, what's more, is that they are a bit technical and should not be taken lightly. The weld procedures, therefore, include things like amperage and voltage ranges, the required gas shielding mixture, the approved gas flow rate, and lastly the diameter and type of filler metal. And when it comes to Flux-cored arc welding application information on the proper wire feed speed should be sought.
Know the different chemical and mechanical properties- As a novice welder, the materials that you are going to use all have different chemical and mechanical properties. This, therefore, means that they react differently to heating and cooling.
Troubleshooting- Troubleshooting is a skill that is needed in more than one area in life, and the ability to rectify welding problems is a skill that new welders have to learn fast. The benefits of the troubleshooting skills are enhancement of productivity ensures good weld quality and reduces downtime. Users can also avoid the extra costs that are associated with having to repeat a previously badly done job.
Undercutting, lack of penetration and excessive penetration are issues associated with amperage and voltage settings that greenhorn users need to establish and correct. Weld defects also arise because of unstable arcs, novice welders should, therefore, check on issues that arise with worn consumables. Porosity is a problem that arises because of gas leaks or gas flow rates, adjusting the above is not exactly rocket science and newbie's can easily learn how to.
Types of Welders
MIG welder
Metal inert gas welding is a process whereby an electrical arc is formed between the work metal and a consumable MIG wire electrode. What actually happens is that a continuous solid wire electrode is passed through the welding gun, directly to a weld pool, which joins the base materials. The shielding gas that goes through the welding gun acts to protect the weld pool from contamination.
For those people who want a clean finish and a perfect weld then MIG is your thing, for starters, you shouldn't expect any slag, and while using it at home or commercially, the weld can perfectly work on different sized metals.
TIG Welder
Also known as Tungsten Inert Gas welding is a method in which an electrical torch is used in combination with a filler rod to weld two pieces of metal together. The filler rod melts with the heat that is generated by the arc. TIG is, therefore, effective in welding titanium and copper, and for your curves and round projects TIG will also come in handy.
In order to effectively use your TIG welding machine you will need inert gas that will be used to shield the weld area from contamination, Argon will, therefore, work best. Unlike MIG, TIG has been determined to produce high-quality welds as it allows a user total control.
The Stick Welder
Stick welding uses a consumable electrode covered with a flux, which is necessary for laying the weld. Stick welding has been around for a long time and is convenient in welding steel and iron. Companies that carry out repair and are involved in construction using heavy steel structures normally use stick welding.
What is Amperage?
Voltage is the thing that makes electric currents to move, you will find it expressed as an electromotive force in other areas. For voltage to come in action a voltage source has to be connected to a circuit and a uniform flow of current will be realized through the circuit. So, during welding voltage will determine the formation of the visible parts of a weld.
Therefore, welds that have passed through a higher voltage tend to be wide, flat and with much smoother edges. This, therefore, means that as you weld, you will have to find the right voltage, which will help you achieve the perfect weld.
Conclusion
A good welding machine does not necessarily come with a steep price, and what you should therefore consider is the intensity of your projects. If you are not a frequent welder and only carry out small projects then a Forney 261 MIG Welder should suffice. But if you will be carrying out major metal surgeries and want a perfect finish then the Lotos LTPDC 2000D Plasma is your machine.