The art of welding can only be fulfilling if you can find the right welder, besides creating stable joints that are able to stand high impact directly correlates with a high performing welding machine. There are welders that run on much higher volts and are able to do a perfect job, but that is not to say that a 120v welder is not as effective, because it all depends on what you are welding.
Simple welding jobs at home can be done by the 120v welder, the problem, however, is that the market is saturated. Fret not though, because we are going to take the guesswork out when it comes to getting the best 120v welder for your home use, beginners in welding can also benefit from the machine before they venture out to the big professional welding machines.
Best 120v Welders
[table id=16 /]
Longevity MIGWeld 140-140 Amps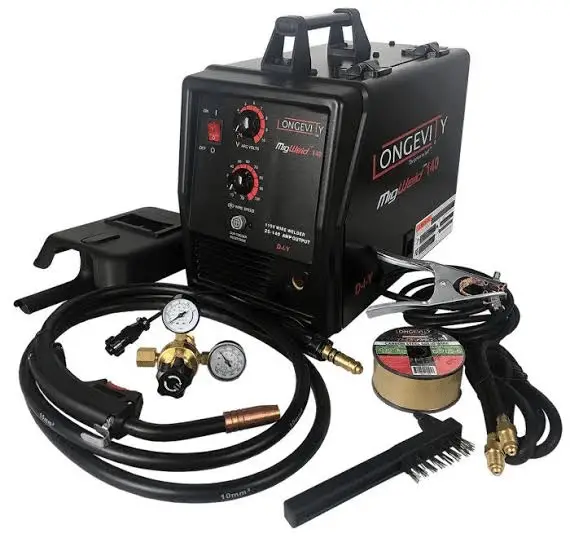 Running at only 110v the Longevity Migweld welding machine has the capability of welding up to 3/8 inches of mild steel. With the above information, we can comfortably classify the Longevity welder as both a professional and beginner use type of machine.
Specs
Machine Weighs 54 pounds
Machine dimensions 16x 14.5 x 9.6 inches
Can weld up to 3/8 inches
Operates on 110v standard outlet power
Longevity welder might not be able to work on industrial projects, but will do a perfect job in creating powerful joints. The machine can work well under flux core gasless welding or gas, enabling you to carry out your projects by alternating between the two welding capabilities. And to make your work, even easier the manufacturer has made the welding machine to be able to use consumables that are easily available in the local shops.
Learning how to use the machine is pretty intuitive and even more interesting is that it can conveniently function from your 110v power outlet. The above makes the welder suitable for home use and you also don't have to worry about hefty power bills.
Pros
Made of lightweight material thus portable
Can take on a variety of metal surfaces
Does not involve a steep learning curve during usage
Can penetrate welding depths of up to 3/8 inches
Cons
Cannot handle a lot of accessories
The machine tends to overheat
Verdict
The fact that the Longevity MIGweld can handle projects that involve operations of up to 3/8 inches then, it is a good option for your home repair projects even better is the fact that it utilizes a 110v outlet.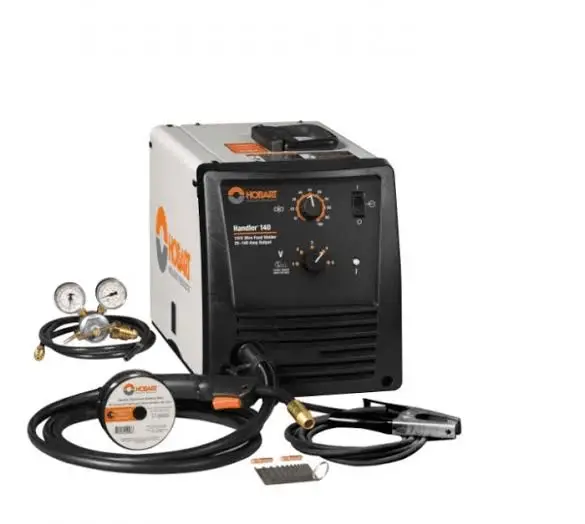 Besides the ability to operate on a standard household current, the Hobart welding machine has three significant features that are bound to make your welding job much easier. First is that it features an industrial cast aluminum drive system, and by incorporating aluminum the machine is able to tackle some of the most difficult jobs without giving in, which also goes to prove that the machine can be relied on.
Specs
The machine weighs 65 pounds
Machine dimensions 19 x 11 x 13 inches
Wire Feed Speed Range 40 – 700 IPM
Amperage output: 25–140
The second significant feature of the Hobart handler is the incorporated heavy duty work clamp, the benefits of this feature are quite apparent because first, it will help keep you safe and second, it will ensure that you get the job done with minimal movement that might distort your operation. In simple terms is that it helps create a safe working environment.
Lastly, we have the 5 position voltage control selector; the feature works to give its users welding options and the ability to work on different levels of thickness. Users will, therefore, be able to achieve smooth and stable welding outcomes on the projects that they are working on.
Pros
Able to be used on a household 115v outlet
The world does a clean job on various levels of thickness
The speed range is manageable even for the beginners
Gives users the liberty of fine-tuning the arcs
Cons
Not good for commercial
Cannot be adopted for professional projects
Verdict
As you go about purchasing your welding unit, it is important to have a clear goal in mind so that you don't purchase a home welding machine to use for commercial purposes, as the ROI can be really frustrating.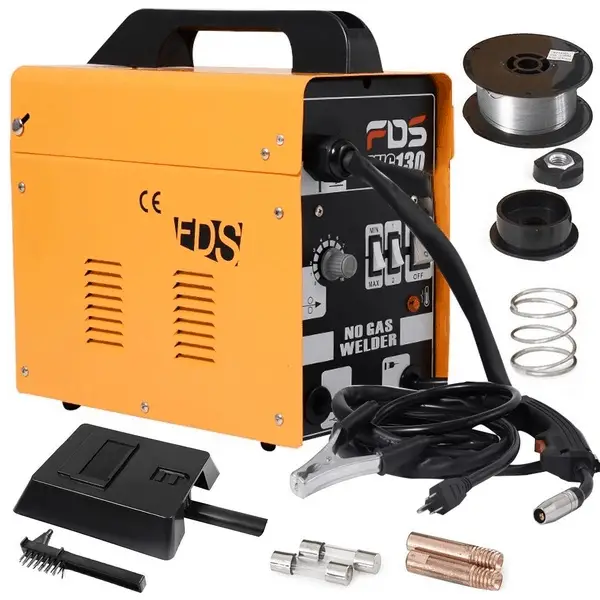 The Goplus MIG 130 welder comes effective for both professional and novice users, it works well when compared to other MIG welders that are used for thin metal welding projects. Goplus is a gasless welder and features a very basic setup, but with the needed accessories to start work as soon as needed.
Specs
The machine weighs 35 pounds
Machine dimensions 14 x 8 x 12 inches
Features 10 levels of wire feeding speeds
Incorporates a reel of 0. 9mm, 0. 55lbs welding wire
If you decide to adopt the Goplus MIG welder, you will be able to get up to four adjustable heating options, a feature that will enable you to carry out welding surgeries that are guaranteed to give you a professional outcome. The machine also features an electrical switch that will enable you to effectively handle the abundance of current in during welding.
Incorporated is a wire feeding speed feature that allows users to work at a comfortable speed, and for that, you get up to 10 levels. For those who have been in the welding industry for some time are well versed with the problem of overheating. Now the Goplus unit comes incorporated with an overheat protective circuit that is meant to assist with heat dissipation.
Pros
Features up to four levels of adjustable welding speeds
Comes at fair prices thus affordable
Has incorporated circuit breakers
The welding machine has a versatile voltage system
Cons
Unable to work for a long time
The machine requires frequent maintenance
Verdict
The Goplus welding machine is a high performer when compared to welders of the same standard; it comes with many adjustable settings that give a user the liberty to use the machine as they well please, in a bid to achieve the desired goal.
Miller Millermatic 141MIG welder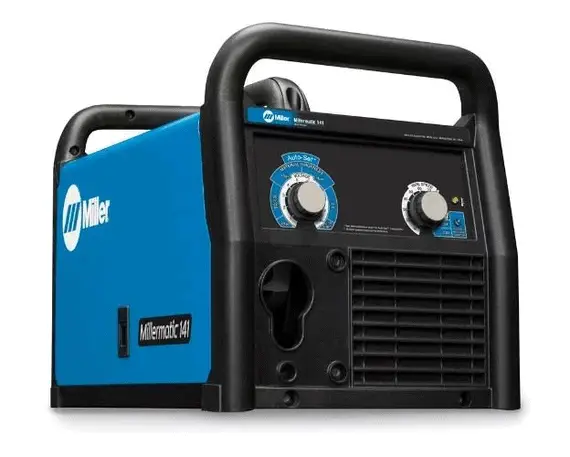 Judging from the welding machines produced by the Miller company, its good reputation precedes it, as Miller has been known to produce high-end quality welding machines and the Miller Millermatic 141MIG welder is no different. The unit was created mainly for use by professional welders a fact that will be proved in the next section.
Specs
The machine weighs 86 pounds
6.5-ft (2 m) Power cord with plug
10-ft (3 m) work cable with clamp
Rated Output 90 Amps at 18.5
Professional welders who work with the miller welding machine have the advantage of getting the full kit accessories from Miller, which include an MIG welding gun that has 100A rated output. The welding gun features a comfortable handle that has incorporated a rubber overmolding complete with a rear swivel.
Users can also get a reliable spool gun that comes with a 12 ft cable for ease of reach while providing a consistent feed of aluminum wire. And since the machine has been made with high-quality durable material, moving it around is not exactly a walk in the park, to which end users can invest in the Millermatic, Multimatic and Diversion Cart.
The latter's rear wheels have been made with durable rubber and a cylinder rack, remember the cart is for use with the different Miller machines and in case it turns out to be less accommodative then you have the option of Investing in the Dual Cylinder Rack Conversion Kit still from the same company that features a top part for the different kinds of tools such as the screwdrivers, a welper, and wire brush or a filler rod.
Now when using the Miller welding machine the recommended plate thickness is as follows, for Aluminum it is 18ga (1.2mm) and 14ga ( 1.9mm). And in case you are using Mild Steel, the recommended thickness is 24 ga( 0.8mm)- 3/16 in. ( 4.8mm).
Other metals that you are allowed to be used with the welder are the stainless steel and as you use the machine the hustle of setting the correct usable parameters have been obliterated by the Auto set feature. The machine doesn't have special power requirements as it can be accommodated by a 120v socket thus suitable for use even at home or in your garage.
Pros
Can be used in both the 120v and 240 v power sockets
Features a robust wire drive with a quick-select option
Made with a short circuit protection
Users can manually set their own machine parameters
Cons
Has to be assembled once out of the box
Not easy to use for the novice users (for professionals only)
Verdict
The Millermatic welding machine is one sure way of achieving your returns on investment for those who wish to adopt the welder for commercial purposes. And for other applications, you can be sure of getting a perfect weld with clean powerful joints in less time.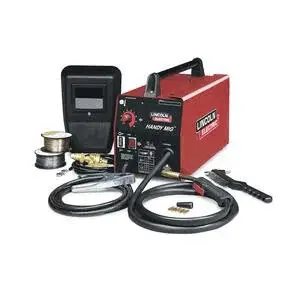 The Lincoln Electric welding machine is one of the easiest machines meant for both the professional and beginner welders. The advantages of adopting the welder are that it is of bearable weight you can thus move it easily; the machine's power input is minimal and features a cold contractor safety option.
Specs
The machine weighs 26 pounds
Machine Dimensions are 18 x 10.3 x 16.8 inches
Features a 35-88 amps output
Uses a household plug of up to 115v and a 20amp outlet
Lincoln Electric welding machine features four voltage settings used to control the arc length at the point of melting within the arc. A wire speed adjustment feature has also been incorporated which enables a user to weld mild steel from 24 gauge to 1/8 inch thickness. What's more, is that the machine comes with all the welding accessories intact, so you can start work right out of the box.
However, if you intend to use your Lincoln electric machine with the gasless, a spool of self-shielded and flux core wire then you will need to get a shielding gas cylinder, contact tips, flux-cored wire, and a chipping brush.
Pros
Able to weld up to 1/8 inches of mild steel
Can be used on both the MIG and Flux-cored
The machine is versatile when it comes to applications
Can be used on a 115v, 20amp outlet
Cons
Verdict
Lincoln is a reputable manufacturer of welding machines and its products can thus be trusted to suffice for commercial, industrial and home use.
Arksen MIG-130 welding machine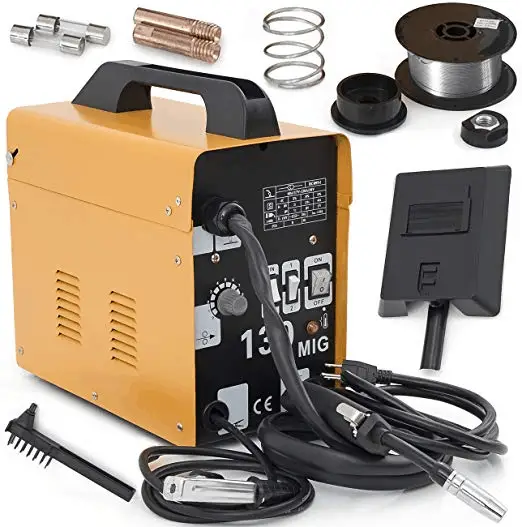 The Arksen MIG-130 welding machines are made of durable heavy-duty stainless steel material thus you can be sure that you will be welding for extended periods without the machine unnecessarily falling apart.
Specs
The machine weighs 36.8 pounds
Machine dimensions 19 x 11 x 17 inches
Wire Capacity: 0. 023" To 0. 035" Steel And Stainless Steel
Rated Input Voltage: 115V/60Hz Single Phase bull
Welders who like using a gasless welding machine then the Arkesen MIG-130 are their go-to welder, setting up the machine for welding is easy when compared to the Lincoln electric. Besides, the machine has been equipped with thermal overload protection that will cut power in case the motor has drawn too much current for a long time.
So for the overload protection to be effective during use, the thermal overload relays are usually closed. The machine has incorporated a speed control feature, to enable the speed of the DC motors to remain constant with regard to the varying supply of voltage from the main power source. Safety measures were also considered in the manufacture of the welder, and the welding machine, therefore, has a full-on and off safety control.
And for the purpose of heat dissipation, the machine has been made with two air vents complete with an American triangle ground cord. And apart from MIG, the machine is capable of both the aluminum, flux core and MIG welding, users are also at liberty of choosing the amperage positions.
Pros
Welding speeds are adjustable
Comes at a fairly cheap price
The machine has been made with a portable design
The machine is convenient for different projects such as Normal iron and thin steel welding, and can also be used for doing repairs.
Verdict
Even though the machine is fairly priced that shouldn't be the standard by which you use to determine its performance, as it will knock the wind out of you with its outstanding performance.
Tips for choosing the 120v Welders
The first thing that you should be looking out for when getting a 120v welder machine for the first time is its brand. Some brands have a good reputation and have been in the industry for a long time, they, therefore, don't compromise on quality though their prices might be a bit high, but be rest assured that you will get value for your money, for example, the Hobart, Lotos and the Forney.
With regard to what you are going to use the machine for, cost should be the least of your worries because you are looking for an electrical instrument that could well be used for industrial or commercial purposes, to which end the incorporated features and functionality are primary. And what about your skills, do you have what it takes to work a welding machine or are you a beginner.
Remember, there are beginners machines in the market that can help you hone your skills before investing in a professional welding unit. The latter might need to be assembled upon arrival, the skills that you might not have and the controls incorporated for the machine to function might not be very familiar making it hard for you to work the machine.
Welders are of different types, there are the travel welders and those that you can use at a specific location. You should, therefore; give careful thought on where you plan to use your welder, what's more, is that not every welder can be used from your home socket as regards voltage. You might also need to invest in a transportation cart as some of the welding machines are too heavy to be moved by the bare hands.
And lastly, what do you intend to use your welder for? Different kinds of welding machines are made for specific purposes and cannot handle all types of metal but rather of specific kinds. With the above information, finding the right type of welder for your intended project shouldn't be a hurdle.